Welcome to The Wallflower Wiki!
Welcome radiant beings and creatures of darkness to The Wallflower Wiki, a growing compendium established in 2009 that seeks to cover all adaptations of The Wallflower series created by Tomoko Hayakawa. All fans of the series are encouraged to contribute and help grow the community!
| | | | |
| --- | --- | --- | --- |
| 1,304PAGES | 209ARTICLES | 372FILES | 3,715EDITS |
About

The Wallflower (ヤマトナデシコ七変化 Yamato Nadeshiko Shichi Henge) is about Sunako Nakahara who was called ugly by her crush. This incident sparks a life change, and as a result Sunako shuns all forms of beauty, both in herself as well as in life. Concerned by her change for the worst, Sunako's aunt, the owner of a beautiful mansion where four very handsome students live, offers Kyōhei, Takenaga, Ranmaru and Yuki free rent if they can turn Sunako into a "perfect lady".
Featured Article
Sunako Nakahara (中原 スナコ, Nakahara Sunako) is the main female protagonist. After a traumatic experience from being rejected and told she was hideous by her first love, she began to lock herself away in her room and chose to live without any desire for life. Sunako is a lover of solitude, gory movies, murder, anatomical dolls and objects that reflect the "ugly" side of life as she puts it; her interests resulted in her distorted view of reality and isolation contributed to her low self-esteem.

Random Facts
Vic Mignoga, Takenga's voice actor, is also the voice actor of anime characters such as Tamaki Suou from Ouran High School Host Club, Edward Elric from Fullmethal Alchemist, and Zero Kiryuu from Vampire Knight.
The Wallflower manga series was published in 2000 and ended in 2015.
Mine Nakahara, Sunako's aunt can speak fluent in various languages such as French, Filipino and Russian.
The anime series first aired in 2006 and ended in 2007.
The opening and ending theme for The Wallflower anime series is sung by Kiyoharu because the manga creator is an avid fan of him.
The anime series is dubbed in languages such as Korean, German and Filipino.
Kazuya Kamenashi, the live action actor who portrays Kyōhei Takano, is in a J-pop group called KAT-TUN.
The manga series was created by Tomoko Hayakawa.
Noi's voice actor is Mai Nakahara, who shares the same surname with the main character of the series, Sunako Nakahara.
Takeru Nakahara, Sunako's cousin, is only seen in the live-action drama and never mentioned in the anime series or manga series.
Tamao Kikunoi is unnamed in the manga until Chapter 111. 
Anime/Manga Community Hub
Spring Season 2021 Anime Wikis

TV Anime

TV (Multiseason)

ONA

OVA

Specials

Film
Affiliates
If you would like to affiliate with The Wallflower Wiki, please contact an admin.
Featured Image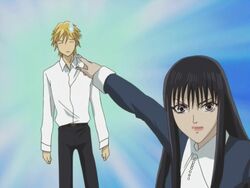 Community content is available under
CC-BY-SA
unless otherwise noted.